Find your flow
DISCOVER THE SIMPLE AND LIFE-CHANGING PRACTICE FOR A HAPPIER YOU
Find Your Flow reveals the revolutionary journal system for flow by Sarah Gregg, that's designed to help you find your flow, feel happier, focus on what matters most and fulfil your potential with ease.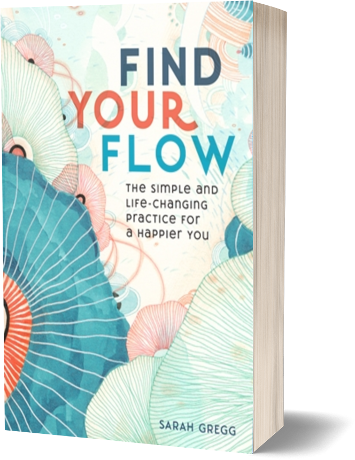 "We have hopes and dreams, a calling to live our short lives fully"

– Sarah Gregg
If you're feeling overwhelmed, tired of juggling conflicting priorities, want to feel happier and consistently focus on what matters most  – it's time to Find Your Flow.
Flow is the bridge between happiness and success. When in flow, you feel at your best and you perform your best. Perhaps that's why psychologists hail it as the "secret to happiness". In the book you will discover exactly how to go after your dreams, fulfil your potential and feel happier every day.  And it's not a magic trick, it's science.
Thanks to years of extensive research by neuroscientists and psychologists, most notably Mihaly Csikszentmihalyi, flow is a state you can control, create, and experience every day that will enhance your well-being and boost your performance.
The System
The simple life changing practice for a happier you
Find Your Flow shares the fascinating psychology of flow and shows you exactly how to practically implement the theory through a revolutionary new four-step journal system for flow. The four-step practice just takes a few minutes to complete in the morning and evening. 
Step 1: Morning Grateful Flow
Step 2: Forward Focus
Step 3: Total Flow
Step 4: Nighttime Reflection
The four-step journal system for flow
  Step 1: Morning Grateful Flow
Learn the science that will help you wake up happy and lay the foundations for flow. With Morning Grateful Flow you'll discover how to create a positive mood that lasts all day.
Step 2: Forward Focus
Discover a new innovative way to set priorities. In Forward Focus you'll learn how to set High Value and High Flow Priorities. This new way of setting priorities will bring effortless balance and flow to daily life. 
Step 3: Total Flow
Total Flow is the last part of the morning routine. It's here you'll learn to train your attention at the start of the day, helping you tame distractions, spot opportunities and stay on course.
Step 4: Nighttime Reflection
You'll uncover proven scientific methods that will help you effectively lean into life lessons, celebrate success and detect when you feel in flow (so you can add more of it into your life). 
"There is a flow with your name on it. Your job is to find that flow and let it carry you to the next level"

– Oprah Winfrey
In Find Your Flow, neuro-linguistic practitioner, coach and member of the British Psychological Society, Sarah Gregg, will teach you  the entire journal system for flow along with the fascinating psychology and science behind it.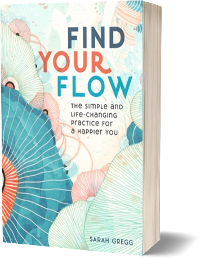 This highly practical, instantly actionable book will have an immediate impact on your life. 
You'll learn a new, simple daily journal routine that will help you:
Gain control over your life
Feel happier
Do less and achieve more
Consistently take action to achieve your big goals, with ease and flow
Find your unique flow
Make your signature impact on the world
Break unhelpful habits
Fulfil your potential
 Hi, I'm Sarah, the author of Find Your Flow and Founder of The Power to Reinvent.
Only a few years ago my life looked (and felt) very different. I was busy, tired, frustrated and overwhelmed. I chased success, approval, and praise believing they would bring me happiness, but no matter what I achieved, nothing felt good enough for long enough. I knew if I wanted to live a happy life, something had to change. So, I looked to psychology in search of answers and discovered flow.
Flow is a framework for living life fully and happily, without the waste of time or our potential. Acting as the bridge between our happiness and success, flow is where we feel our best and perform our best. In Find Your Flow you'll not only discover the surprising psychology of flow but also a simple life-changing journal practice that will show you exactly how to find it.